Making The Most Of Data Lakes Through Agile Methods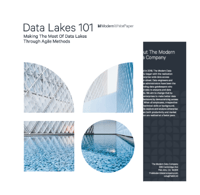 Traditional methods for developing data warehouses, software, data lakes, or similarly large-scale IT assets focus on up-front, top-down planning. However, now that agile methods are in play, they could help companies make the most of their data lakes. Download our latest paper to find out why agile methods and data lakes are a perfect match for streamlining data pipelines to extract maximum value.

Companies need a new data system to achieve the potential that data lakes promise. It's time to find out how to build a better data lake integrated right into the organization's core architecture.