A Modern Data Strategy for the U.S. Department of Defense
Becoming Data-centric With a Data Fabric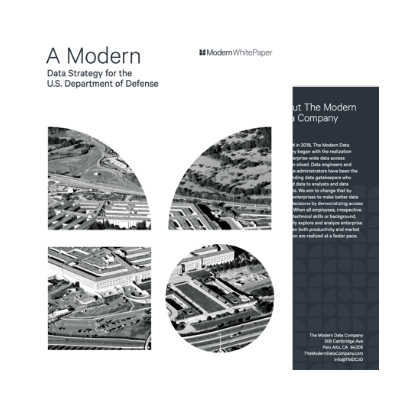 In October of 2020, the DOD published a new Data Strategy targeted at using "data at speed and scale for operational advantage and increased efficiency." Like every other industry, government agencies are faced with the question: "Regardless of how much data you have, is your data actually usable?"

To fully answer this question a new data profile was needed—one that delivered a trusted and real-time view of customer and business data.
DataOS®, the right data architecture for today and tomorrow
At The Modern Data Company, we developed a data operating system to remove complexity and future proof your data ecosystem by unifying data management under one roof. We call it DataOS® - a fully integrated Data Fabric.

Our DataOS Data Fabric solution embodies seven core principles:
1. Data as an Asset
2. Data Quality and Profiling
3. Data Availability and Discovery
4. Data Interoperability
5. Data Fit for Purpose
6. Data Ownership
7. Security and Compliance

DataOS allows you to own your data destiny.