Key Challenges and Opportunities
Retailers and consumer packaged goods (CPG) companies are under immense pressure to maintain margins despite the lingering effects of a global pandemic and inflation. Many are realizing that their competitive advantage is tapping into an incredible resource they already have plenty of — data — to meet customer needs, streamline operations, and reduce costs and risks.
Unfortunately, this has led many to discover firsthand that achieving data-driven insights is a massive challenge at every level of the company, complicated by a network of legacy systems and data silos.
It doesn't have to be this way.
Join industry experts Bill Franks and Matt Lampe as they discuss retail data challenges and real opportunities available to retail and CPG companies, from c-suite executives to IT to non-technical business users.
This webinar will cover how The Modern Data Company helps retailers and CPG businesses:
Get value out of existing investments, without ripping and replacing
Enable data interoperability and consolidate all data into one place
Empower business users to drive their own data demands
Allow technical teams to move and experiment quickly and easily

Watch the webinar today.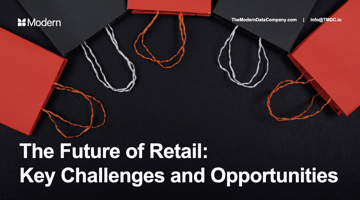 Get the Webinar On-Demand